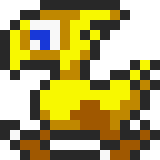 Kweh! This website is under construction.
Full site coming soon (or whenever!)
In the meanwhile you can check most of my VGM covers/remixes at Dwelling of Duels, and some of my older works at Soundcloud.
You can also check my Bandcamp page to freely download full albums or EPs (when there is a collection of songs ready to be officially published in this format, of course!)>
Warning: Don't expect good quality stuff but just laughs and earches!